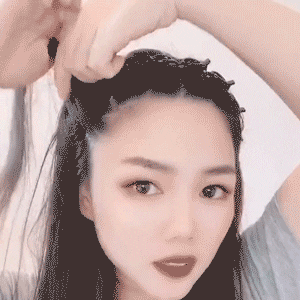 Beautiful Hairstyle According To Your Needs!
Three different sizes of hair accessories clips can be matched at will, and the hair style can be changed at will. Suitable for weddings, graduation ceremonies, dance parties, parties, Valentine's Day, daily social activities. Make you a beautiful woman.

Features:

Selected materials: Made of ABS resin material, good flexibility and will not harm your hair
Tooth design: The part of the headband that contacts the hair is designed with convex teeth, which is more firm
Easy to use clip: There are also 8 clips on the headband, you can choose any number, and the clips are free to shape.
How to use:
Put the headband on your head first and take out a bunch of hair
Then twist the hair slightly to facilitate the following operations
Put the hair into the small clip, or you can choose how many clips to use to see the beautiful hairstyle according to your needs.
Package Includes
1*Double bangs hairstyle hairpin
Specifications:
Material: ABS/Resin
Weight: 25g
Color: Black/Brown
Package Include:
1 x Double Bangs Hairstyle Hairpin